Low Cost High Quality Fuel Gas Boiler
In the northern heating market, electric water heaters and boiler water heaters are commonly used. What is the difference between the two in terms of heating costs? According to relevant data, if the amount of hot water is 4000 tons/m3. The related costs are as follows:
Fuel price (yuan): Electric water heater 0.95 yuan/kwh, fuel oil/gas boiler 3.5 yuan/m3.
Daily operating expenses (yuan): Electric water heater 186046.51, fuel gas boiler 8682121.71.
Equipment life: electric water heater 5 - 10 years, fuel gas boiler 5 - 15 years.
Equipment maintenance costs: 0.2 million yuan per year for electric water heaters and 0.2 million yuan per year for fuel oil/gas boilers.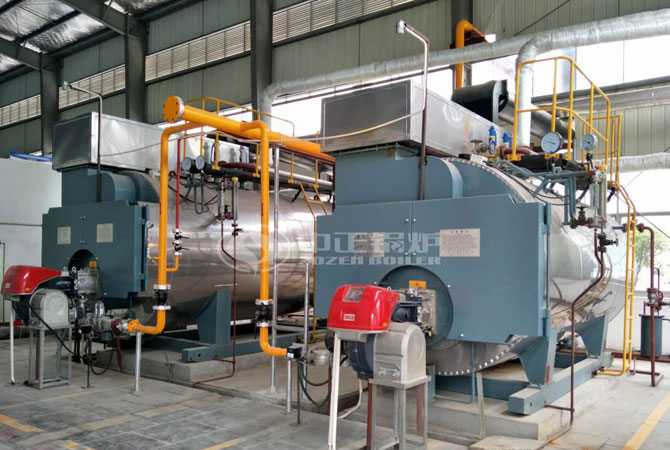 Comparison of fuel oil/gas boilers and coal fired boilers
Environmental costs: The main implication is that the coal-fired boilers are now subject to stricter audits. Fuel oil/gas boilers are increasingly used because they are economical to operate, environmentally friendly and energy-saving, and they are encouraged by government policies.
Construction cost: This cost mainly comes from boiler room and boiler pipe investment. Among them, coal-fired boilers have more auxiliary machinery and equipment, so more funds are needed for the boiler room construction. There are also fuel-fired oil/gas boilers that are fully automatic control and have automatic alarm and automatic protection functions. When connected to a natural gas pipeline, the burner automatically supplies gas and can effectively save staff costs. Because coal-fired boilers need coal processing, they will spend more on staff salaries.
Purchasing cost: Because the fuel oil/gas boiler is obviously ahead of the coal-fired boiler in technology and supporting auxiliary machines, and is equipped with a dedicated gas burner, the procurement cost is significantly higher than that of the coal-fired boiler.
In general, the cost of using fuel oil/gas boilers is lower than that of using electric water heaters, and the cost is lower than that of coal-fired boilers. Fuel oil/gas boilers are still very advantageous. Zozen has developed WNS series, DHS series, SZS series gas boilers to provide you with choice. .
Related machine involved in the production line: